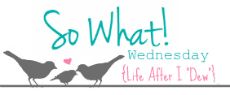 This week I'm saying so what if...
I have been eating more than my planned calories the past few days. I've been feeling extra hungry.
I didn't go out for a walk the past two days aside from going to see the doctor and going to the corner shop.
It's rained at some point every single day since we moved to Glasgow three weeks ago. EVERY DAY.
There is an awesome Salvation Army across the street from me that sells furniture for insanely cheap prices. I go there every day hoping to find some awesome random things to add to our flat.
I still haven't tried out the American cafe across the road. I had hopes of going there for breakfast a few times a week when my husband starts classes but it's a bit too expensive for that.

I'm still playing Minecraft. It's fun.

Moving house got me hooked on caffeine again because I was convinced it would help give me energy while packing.

I still haven't been shopping in the city centre. There is plenty of time.

I downloaded a hidden object game on my phone and it's been taking over my reading time before bed. Why are they so addictive?

I'm wearing mismatched socks, as per usual.

It's 5pm and I haven't woken Little Man up from his nap. The peace and quiet is...well, peaceful and quiet.